Hospitality Management Services in Miami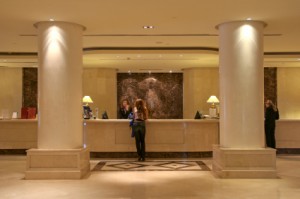 Doric Property Management is a property management that provides full management and consulting support for the hospitality industry. We provide our services to commercial, convention, resort and many more types of hospitality properties. Not only do we assist in the daily operations and asset management, we help with financial development, construction management, pre-opening operations and even provide brokerage and acquisition services. Our services are designed to help in every aspect of Miami Hospitality Management and we strive to provide the best aid we can offer.
Our management agreements are drawn up based on the needs of a specific property. Some of our clients find it easier for us to handle everything for them and other prefer to handle certain aspects such as construction management or interior design. Give us a call today to discuss specific details. We are here to help you increase your bottom line without having to delve into areas you may not be strongest. To help you decide what services you'd like to employ, we offer a risk-free 3 month trial of our management program.
---
Recent Articles
Tips and Tricks to Investing in Property

Property investment has many potential benefits and can double increase your investment. However, as with any venture, there are some risks involved. Less risky than shares, property investment attracts many people and has two major benefits : the tax advantages from negative gearing and the capital growth. Negative gearing in property investment means buying with...

Read More
What To Expect Out Of Miami Office & Retail Property Management

If you have recently purchased an office or retail property in Miami, you may be wondering what to expect out of a property management company. Or, perhaps you have been managing your office or retail space yourself and are looking into hiring a property manager to handle everything for you. Finding a good property management...

Read More
If you are looking for Hospitality Management Services in Miami, then please call 305-407-1817 or complete our online request form.